"DIVORCE, BERSATU STYLE"
Dr M fights back like an angry tiger, wrote Joceline Tan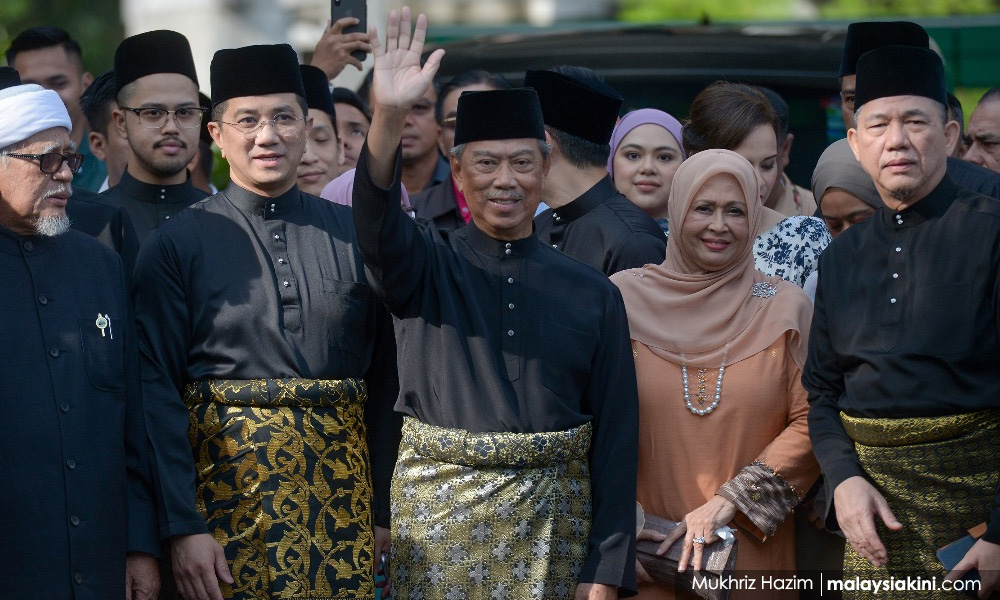 Perikatan Nasional led by Muhyiddin Yassin
IF the rumours swirling the whole of yesterday had come true, the country would be left with a hung Parliament today.
A minister and a deputy minister were supposed to announce that they were crossing over to join Dr Mahathir Mohamad's camp.
It was supposed to have happened at 5pm, but 5pm ticked by with no sign of them or any word from the pair.
For a while, the fate of the Perikatan Nasional government seemed to be in the hands of Minister in the Prime Minister's Department Mohd Redzuan Md Yusof and Deputy Works Minister Dr Shahruddin Md Salleh.
For days, there had been speculation that Camp Mahathir had promised to make Mohd Redzuan the next deputy prime minister, while Dr Shahruddin was offered a full ministership apart from "remunerations".
The pair have not personally quashed the rumours, although Mohd Redzuan's political secretary has denied that his boss had called for any press conference and that Mohd Redzuan was in fact under quarantine.
But as many noted, it was not an outright denial that he would jump ship.
There were also claims that Women and Family Affairs Minister Rina Harun was also jumping, but she killed the rumour by turning up alongside party secretary-general Hamzah Zainuddin at a press conference yesterday afternoon.
The moment has passed but the crisis has deepened.
The infighting in Bersatu has worsened and it is ironic that the party, which has managed to produce two prime ministers in its brief existence, is falling to pieces.
Dr Mahathir Mohamad, Bersatu chairman
The war between Dr Mahathir and Muhyiddin Yassin is destroying the party and threatening to drag the country into yet another political upheaval.
"It is moving to a dangerous level. It was bubbling beneath the surface and has finally boiled over.
"A small party like ours cannot survive this type of infighting," said a senior Bersatu figure close to both Dr Mahathir and Muhyiddin.
Dr Mahathir's membership – he was "member 001" – was nullified on Thursday together with four other MPs.
Then, in a rather bizarre twist of events, the Bersatu executive secretary, who had issued the letter, was sacked by the secretary-general, who himself had been sacked back in March.
Newspaper columnist and former MP Jeff Ooi referred to the sackings as "divorce, Bersatu style".
What happened was probably a "popcorn moment" for Bossku or Mohd Najib Abdul Razak, who posted a photo of himself snacking on some Super R snack with the caption: "Heard that somebody was sacked."
But can anyone in Bersatu tame the angry tiger that Dr Mahathir has become?
Yesterday afternoon, the former prime minister strolled into the Bersatu headquarters, wearing a cynical smile and looking as cool as a cucumber.
He made his way into the chairman's office, sat down and asked to see executive secretary Kapt Suhaimi Yahya, who had sacked him.
It was a classic Dr Mahathir move.
It was his way of saying: "Who are you to sack me?"
Suhaimi apparently refused to come out of his office, which was on the same floor as the chairman's office.
"I think Mahathir has every right to make a mockery of the sacking. It is simply ridiculous, it's like the boss being sacked by the clerk," said Bersatu supreme council member Akhramsyah Sanusi.
Dr Mahathir then proceeded to hold a press conference challenging the sackings and running down his party president.
He could have held the press conference anywhere, but he chose the party headquarters to send the message that he is not taking what happened lying down.
It was a moral victory for Dr Mahathir. No one dared to stop the "sacked chairman" while Hamzah, who was supposed to have a press conference on the same day, decided to hold it at a nearby hotel.
Yesterday's event provided a glimpse of Dr Mahathir's Plan B against Muhyiddin.
It is evident that his Plan A – the motion of no confidence against Muhyiddin – is likely to fail because PKR parliamentarians are not with Dr Mahathir.
There is tremendous resistance in PKR about working with Dr Mahathir again.
"Only the biggest fools will believe Dr Mahathir again after what happened," said an MP from PKR, who declined to be named because they had been told not to speak on the issue.
The distrust of Dr Mahathir runs deep in PKR after the way Anwar Ibrahim was "played out" of the premiership.
"We don't want Dr Mahathir as prime minister. All of us are very clear that Anwar is our prime minister candidate," said Perak PKR chief Farhash Wafa Salvador Rizal Mubarak.
Without PKR, Dr Mahathir does not have the numbers needed for his motion to go through.
Dr Mahathir's Plan B was probably hatched after the May 18 parliament sitting when he saw that Muhyiddin only had 113 MPs on his side.
He realised that he only required three MPs to cross over and the ruling coalition would collapse. That was when he decided to go on a "fishing trip" for MPs to come onboard.
It is not easy to catch the big fish, but he is not the sort to give up without a fight.
Written by Joceline Tan and first published by The Star today, Saturday 30 May 2020.
The views expressed here are entirely the writer's own.
for Permadu Malaysia